10 Home Décor Trends in Louisville
Posted by Mike Hall on Wednesday, July 20, 2016 at 4:41 PM
By Mike Hall / July 20, 2016
Comment
As far as Louisville homes go, 2016 is looking pretty stylish.
by MIKE HALL, Owner/Agent/Broker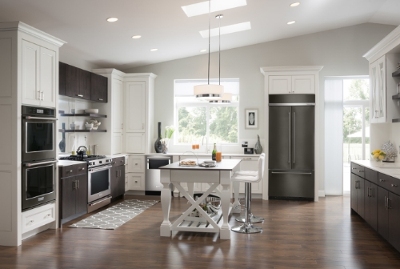 Based on a few design articles, I have a list of 10 home décor trends for 2016 my Louisville friends should (or could) try.
Heated Floors. Who doesn't want warm feet?
Wooden floors vs. carpet. Just avoid carpet altogether. Hardwood, stone and tile floors are more sanitary, plus you have an excuse to go shopping for an ever-classic, ever-popular and timeless, oriental rug.
No TV in the living room. It gives more room for actual socializing.
Fireplaces. Whether operative or not, fireplaces are becoming sought-after focal points once again.
Black stainless steel appliances. A definite move has been made from ultra shiny to dulled sheen.
Matte finish vs. shiny. Cover your silver and gold knobs and light fixtures with a neutral swath of paint.
Miss-matched cabinetry. From raw, natural materials to multicolor, pairing two opposites makes for something one of a kind and stylish.
Statement bathroom mirrors. Ditch the typical square/rectangle and go for a shape more unique.
Better utilized and hidden storage. Whether it is deeper cabinetry in the kitchen, a staircase bookshelf or hollowed ottomans, sneaky and efficient storage is a must.
High-tech, niche appliances. Installing a wine refrigerator? Niche appliances are great for resale marketing and added luxury.