The Local Malls
Posted by Mike Hall on Wednesday, November 15, 2017 at 9:31 PM
By Mike Hall / November 15, 2017
Comment
New and Improved
by MIKE HALL, Owner/Broker/Agent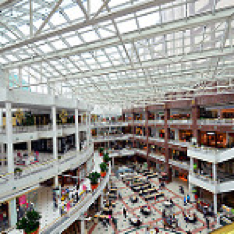 If you are older than 25, you probably remember when malls were the place to be in America.
Recently, malls have taken a downturn. But new strategies are helping to reinvigorate the spaces. If you live in Louisville Metro, you are most likely familiar with The Mall at St. Matthews or The Oxmoor Center. In nearby Shelby County, you will find The Outlet Shoppes of the Bluegrass.
Go inside and you'll notice a departure from the malls of the 1980s. Where you would have once found retail clothing store after retail clothing store, you'll now find attractions designed for convenience.

For example, high-tech and high comfort theaters have become par for the course in many modern malls. You will also find Apple stores, cell phone carriers, entertainment facilities and even gyms. You might also notice a host of food options.
Gone are the days of fast-food-only food courts. You will find upscale restaurants like The Cheesecake Factory or California Pizza Kitchen. You may even find a grocery in more malls as they continue to evolve. Shoppers are looking for a place where they can meet all needs in one stop and malls are happy to oblige. Call your Red Edge agent to check out the St. Matthews or Hurstbourne areas so you can take advantage of a mall near you!
Source: Insider Louisville