Up for Debate, Louisville! Taking Down Holiday Décor
Posted by Mike Hall on Tuesday, January 3, 2023 at 1:40:10 PM
By Mike Hall / January 3, 2023
Comment
How soon should your Christmas tree exit center stage?

By MIKE HALL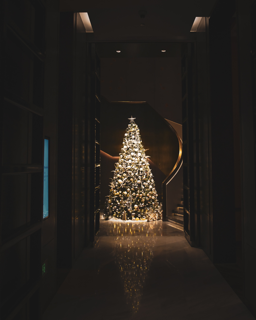 Returning a home to its pre-holiday state is something many cannot simply agree on. Some homes leave their Christmas lights on all year long (Redneck Woman by Gretchen Wilson reminds us), but many more reasonable and less festive souls struggle to find an agreed-upon timeline.
If you're religious or superstitious, there are three dates to mind: Twelfth Night, New Year's Eve, and Candlemas (Feb. 2). If you're neither, consider letting your tree or your vibe lead the way.
Twelfth Night: Christian tradition marks Twelfth Night, the end of Christmas and the Eve of the Epiphany (Christian feast day), as the time to take down your Christmas tree and pack away your decorations.
This year, Twelfth Night falls on either January 5 or 6 – and the dates depend on tradition. Be warned though: leaving your Christmas decorations up after this date is thought to bring bad luck.
New Year's Eve: There is another tradition that states you should have taken your Christmas tree down on New Year's Eve before midnight. For the superstitious types, it is thought you may have bad luck in the New Year if you keep your tree up longer past 12:01 a.m. New Year's Day. Hopefully you knew this if you believe in this karma.
Candlemas: Roman Catholic families often choose to keep their tree up until February 2, which commemorates the presentation of Jesus at the Temple.
The tree is done: If your live tree is exhibiting any of the following signs, consider taking it down – responsibly:
The needles are dropping
The limbs are stiff or droopy
It smells musty
It's not taking in much water
Your vibe needs a reset: Sometimes the holidays are magical, and sometimes they're stressful. If the holidays of yester yore (2022) need to be over so you can focus on creating the 2023 of your dreams, let your Christmas decorations be stored.
Is owning a home or moving into a different home part of your goals for this year? Contact a Red Edge agent today to get started! We can set you up on a customized email list with homes that hit your parameters hitting your inbox as soon as they're on the market.
Sources: https://www.today.com/life/holidays/when-to-take-christmas-tree-down-rcna44023
https://www.housebeautiful.com/uk/lifestyle/a25690686/when-to-take-christmas-tree-down/